Below you will find a complete list of our Madden 19 Offensive Strategy Guides. If you are looking for a Defensive Guide simply click the button below to view those offerings.
DEFENSIVE GUIDES
UNLOCK ALL OF OUR CONTENT WITH A MEMBERSHIP!
Or Continue Down The Page To See Madden 19 Offensive Guides
CHOOSE MY MEMBERSHIP!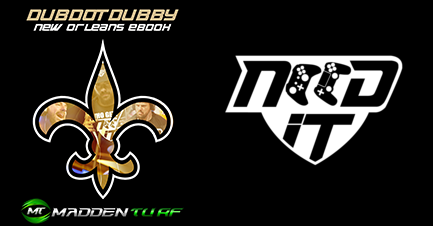 We bring to you the offensive guide from the Madden Bowl champion himself, Dub Dot Dubby. Dubby is known as one of the best players in offense in the world, and we are having him break down his favorite plays for you. Additionally, you get a few added plays from us as well. Are you ready to win? Are you ready to dot? You NEED it. (This covers Dubby's 3 favorite formations).
Price: $25
This guide is specific to the Gun Tight Flex formation. It will be updated all year long with any play we find for FREE. Please keep in mind that when purchasing a formational guide that you will need to pick which playbook to run it from. This particular formation is in the Titans, Rams, Bucs, and Bengals offensive playbooks.
Price: $8